What's included in your Super Hero Party, Commando or Captain America Party..
Is your child full of energy? This interactive party will let your child's inner Hero and energy out! We all want to be hero's… so let them use their super strength and let their imagination run wild. The Super Hero party will see your Hero, Commando camouflaged and loaded with awesomeness. Captain America will relay on his bravery and courage to make your child's party one in a million.
Your Super Hero Party can include:
Upon arrival all soldiers will have their faces camouflage painted to the theme. (Quick & simple faces, all the same). Each child picks out a token to decide if they are on the red or yellow team.
The Birthday child is made Lieutenant and is captain of his team. The two teams huddle together and decide on their team names.
The Super Hero Party is off with a blast as we play Hot Grenade, if you get stuck with the grenade you need to do a drill task like sit ups, push ups etc. Each child receives a prize after their drill as they all are winners. The last person receives a medal.
Good and evil fight to win the tug of war. Who will triumph? Best out of three. Dads can join in on the last match!
Team members have to perform a Rescue Mission to save two of their injured soldiers. On finding the injured soldiers they have to bandage them up (with a roll of toilet paper) and carry them on a stretcher (beach towel) back to base. First team to rescue both injured soldiers and return them safely to base wins.
Off we go on a Scavenger Treasure Hunt. Each team has a list of army survival items like a compass, binoculars, survival guide etc to find as well as toy soldiers, both teams battle it out to be the first back to base with all their items.
To end the Super Hero party, everyone receives a balloon (like a sword, ray gun, dog, wand – for girls etc) and Optional Party Bags, as every child is a winner!
The Best Super Hero Party ever!
Super Hero Party Package
(great for ages 5 and up)
Fun & heroic character of your choice
Camouflage face painting (Army style markings)
Super hero markings (Captain America style markings)
Awesome games (the Birthday child is made Lieutenant) Including Hot Grenade, Tug of War, Rescue Mission & Scavenger Treasure Hunt
Balloon twisting (Everyone receives a creative balloon like a sword, ray gun, puppy etc.)
Meet one of our Super Bunnies
Medal Ceremony each child presented with their dog tag or
OPTIONAL EXTRA – Army party bags $5 per child (which are presented in the Medal Ceremony)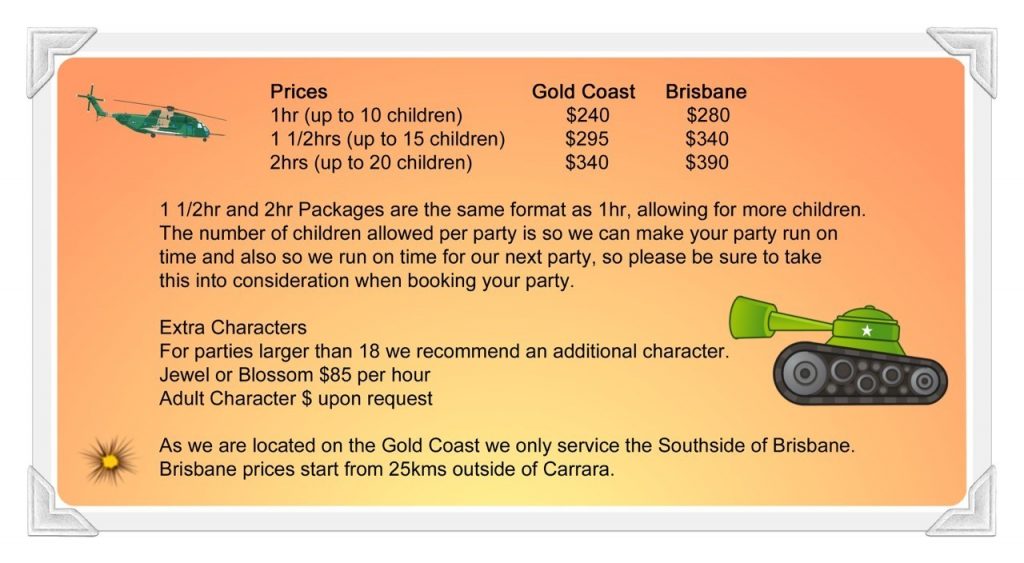 Consists of;
Parachute Army man
Camouflage Glider
Army wristband
Lollipop
Army stickers
Balloon
Army activity sheet
Lolly (wrapped lolly)
Choose your character …
The first stage to hosting an amazing party is to choose your character from the selection below:
Click on the character below to see our party packages.....
Call now to check availability and to book your party or if you require more information.