It doesn't matter if you're holding a kids party, need an entertainer at your event or at your venue you want the best for your guests …
… But too often I hear about entertainers who didn't present well, weren't organised or even keep the guests entertained.
We understand how important it is to have great entertainer that's why we started Funtabulours Parties to give you …
Access to over 10 years' experience organising and completeing hundreds of parties and events, where we would love to use this experience to help you …
Where we will plan and agree on the format of your party or event with you beforehand so that youu get exactly what you want and the kids love it …
A party or event which will amaze and entertain the guests with fantastic costumes and entertainers who really live their character …
Funtabulous Parties are experts at providing fun and fabulours entertainment …
Please have a look around the site to learn more about how we can help you or
call 0421 271 204 if you have any questions.
'FREE guide on choosing the right entertainer …'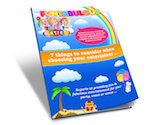 around To help you with choosing the right entertainer for your party of event we're offering a FREE guide. To get your copy CLICK HERE >>.
You'll also receive a voucher for a FREE phone event planning consultation. So, submit your details or call 0421 271 204.