Coming Soon….
What's Included in Your Mermaid Party …
Let your daughter become a Magical Ocean Princess, mermaids rule! Let her imagination float out to sea and become a reality.
The party will see our mesmerizing mermaid arrive in a beautiful sparkling dress with amazing ocean colours. Our adorable bunnies come out to play and love all the attention and cuddles.
We cater for the boys as well.
Your parties can include:
You can choose between fabulous face painting or glitter tattoos for the Birthday child and all their special friends.
The Birthday child chooses a special crystal seashell to keep & we all make an ocean wish & with a sprinkling of magical dust our wishes find their way back to Neptune, the underwater wonderland.
We pass our magnificent seashell around and listen to the ocean sound from within and every child receives a little gift (Seashell pass the parcel).
Balloons, balloons & more balloons! Everyone receives a creative balloon like a mermaid, fairy wand, bunny, butterfly etc. for everyone to remember the great time they had at your party.
We also go on a treasure hunt to find all the treasure.
The Best Birthday Parties ever!
Pearl Package
(great for ages 4 and up)
Fabulous face painting (eg. Small cheek art) or glitter tattoos
Ocean wishing crystals
Seashell pass the parcel
Meet one of our adorable bunnies
Balloon twisting (Everyone receives a creative balloon like a mermaid, fairy wand, puppy etc.)
Treasure hunt (with lollypops)
Goodbye song and hugs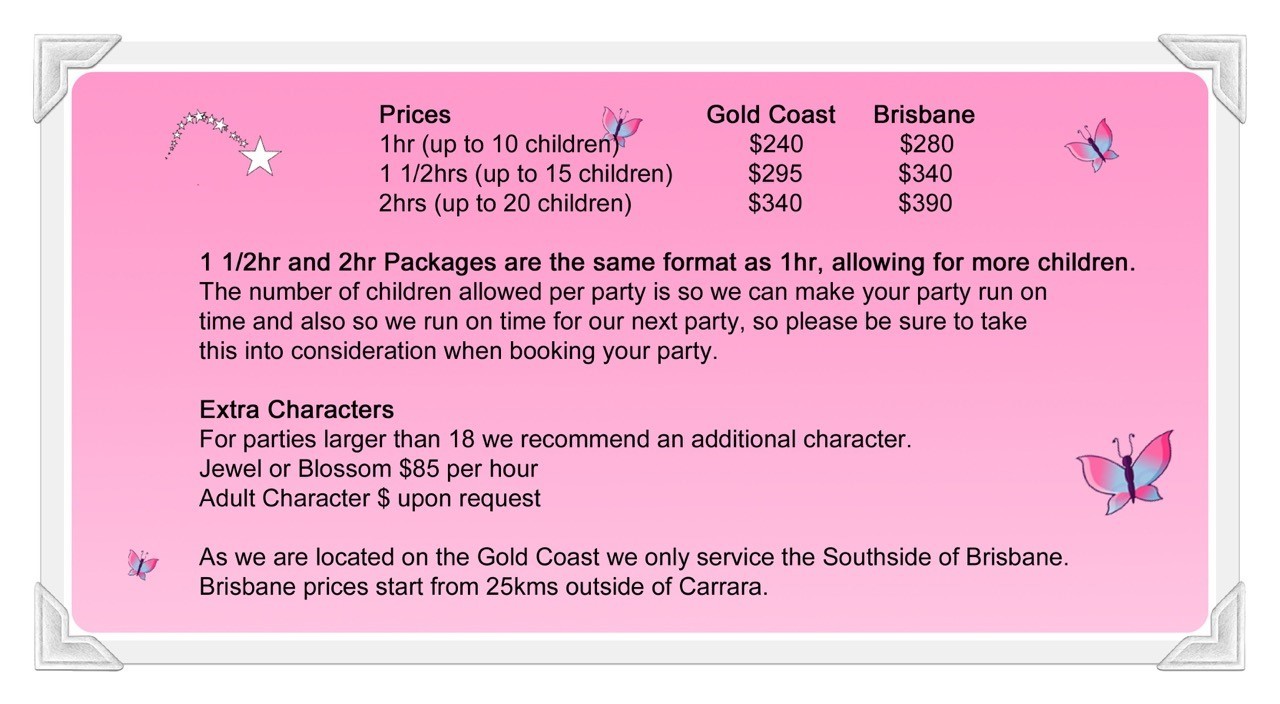 Choose your character …
The first stage to hosting an amazing party is to choose your character from the selection below:
Click on the character below to see our party packages.....
Call now to check availability and to book your party or if you require more information.