What's included in your Fairy Parties Gold Coast …
Is your child a fairy at heart, maybe you are too? Let us turn your child's imagination into reality. Your fairy arrives in a beautiful sparkling dress with a glittering crown & precious fairy wings. Our adorable bunnies come out to play and love all the attention and cuddles.
We cater for the boys as well. Fairy Parties Gold Coast are the best parties ever!
Your Fairy Parties Gold Coast can include:
You can choose between face painting or glitter tattoos for the Birthday child and all their special friends.
We perform a dazzling interactive magic show in which the Birthday child becomes the STAR. Lots of fun and laughter as her friends help too.
Princess the bunny also gives a special fairy gift to the Birthday child to treasure.
The Birthday child chooses a special crystal to keep & we all make a secret fairy wish & with a sprinkling of magical fairy dust our wishes fly back to Fairyland.
Balloons, balloons & more balloons! Everyone receives a creative balloon like a sword, fairy wand, bunny, butterfly etc. for everyone to remember the great time they have at your party. (May not be in 1hr Package)
We also go on a treasure hunt to find all the treasure. (We use lollypops for treasure).
Fairy Parties Gold Coast for the Best Birthday Parties ever!
Enchanted Package – Fairy Parties Gold Coast
(great for ages 4 and up)
Fabulous face painting (eg. Princess face or mini spider face) or balloon twisting or glitter tattoos
Awesome Fairy Parties Gold Coast Magic show:
Our Fairy Parties Magic show is full of fun & excitement, colourful props, sometimes fire magic and of course the Birthday child gets to make our beautiful bunny appear. Your child becomes the star of the show in our interactive parties, which every one feels a part of.
Meet one of our adorable bunnies
Wishing crystals
Treasure hunt (with lollypops)
Goodbye song and hugs
Precious Package – Fairy Parties Gold Coast
(1-4year age group, or if you want face painting & balloons instead of our magic Show)
Every child has their face painted and takes a balloon animal home. The Precious Package allows for bigger face painting (in the Enchanted Package girls have princess faces and boys have mini spider faces).
In my experience, I find that at this age the children do not like to stay still for as long and are a little young for our magic show, so for this age group we recommend face painting,
balloon twisting and dancing.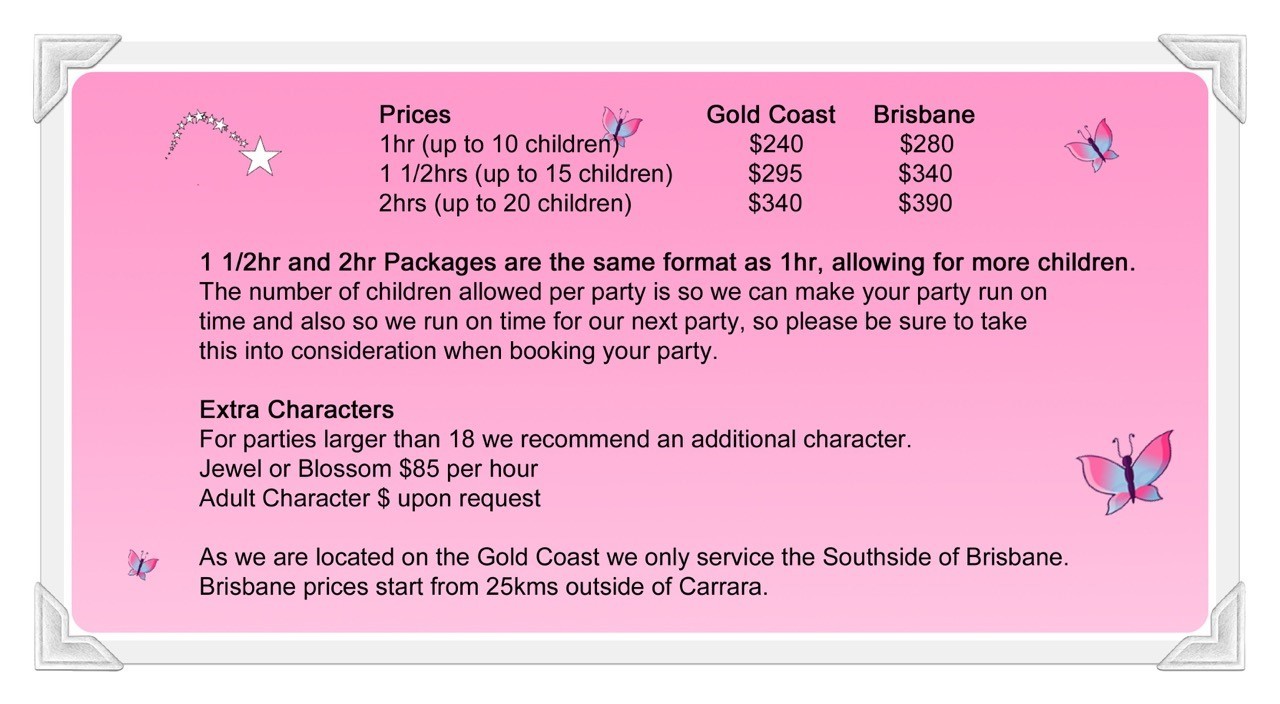 Choose your character …
The first stage to hosting an amazing party is to choose your character from the selection below:
Click on the character below to see our party packages.....
Call now to check availability and to book your party or if you require more information.